Shirnett Williamson, MD
Medical Director of Radiation Oncology Services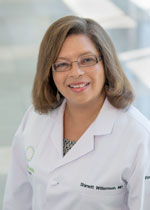 Dr. Shirnett Williamson is the medical director of Radiation Oncology Services at Capital Health. After receiving her medical degree from Howard University College of Medicine, she completed her internship in Internal Medicine at Franklin Square Hospital in Baltimore and her residency in Radiation Oncology at Thomas Jefferson University Hospital. She returned to Penn Radiation Oncology following her development of the Department of Radiation Oncology at the Charlotte Kimelman Cancer Institute in the Caribbean. She served as an assistant clinical professor of Radiation Oncology at the University of Pennsylvania School of Medicine prior to joining Capital Health.
In addition to CyberKnife, Dr. Williamson specializes in external radiation using IMRT, 3D conformal treatments, HDR treatments and prostate seed implementation. She is board certified in radiation oncology.
Timothy H. Chen, MD
Medical Director, Stereotactic Radiosurgery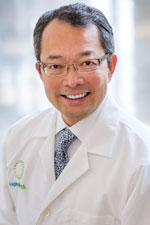 Dr. Timothy Chen is medical director of Stereotactic Radiosurgery at Capital Health. He is also president of the Board of Advisory of the American Cancer Society – Eastern Division.
Prior to joining Capital Health, Dr. Chen was an attending radiation oncologist at Saint Claire's Health System at its Denville and Dover campuses, vice chairperson of the Department of Radiation Oncology at Morristown Memorial Hospital and an attending radiation oncologist at North Shore/LIJ University Hospital in Manhasset, Long Island, NY. He earned his medical degree from Universidad Tecnologica De Santiago College of Medicine in Santo Domingo, Dominican Republic. He started his residency training at the Department of Radiation Oncology at the State University of New York (SUNY) Science Center at Syracuse and completed his residency at the Department of Radiation Oncology at The New York Hospital Cornell Medical Center where he was elected chief resident in his senior year. He also was a visiting fellow in Pediatric Radiation Oncology at the Joint Center for Radiation Therapy at Harvard Medical College.
He has served as an assistant professor at the SUNY Health Science Center at Stony Brook School of Medicine and as an assistant radiologist on the faculty at The New York and Presbyterian Hospital Cornell University, School of Medicine. He is the author of several textbook chapters and multiple scientific publications and has been an invited speaker at various regional conference and hospital grand rounds.
Dr. Chen has specialty interests in gynecological malignancy, lung cancer, brachytherapy (LDR/HDR) and CyberKnife® Radiosurgery. He is also fluent in Mandarin and Taiwanese.