Shirnett Williamson, MD
Medical Director of Radiation Oncology Services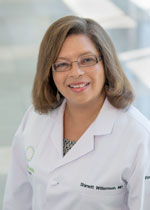 Dr. Shirnett Williamson is the medical director of Radiation Oncology Services at Capital Health. After receiving her medical degree from Howard University College of Medicine, she completed her internship in Internal Medicine at Franklin Square Hospital in Baltimore and her residency in Radiation Oncology at Thomas Jefferson University Hospital. She returned to Penn Radiation Oncology following her development of the Department of Radiation Oncology at the Charlotte Kimelman Cancer Institute in the Caribbean. She served as an assistant clinical professor of Radiation Oncology at the University of Pennsylvania School of Medicine prior to joining Capital Health.
In addition to CyberKnife, Dr. Williamson specializes in external radiation using IMRT, 3D conformal treatments, HDR treatments and prostate seed implementation. She is board certified in radiation oncology.
Timothy H. Chen, MD
Medical Director, Stereotactic Radiosurgery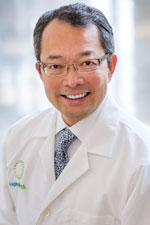 Dr. Timothy Chen is medical director of Stereotactic Radiosurgery at Capital Health. He is also president of the Board of Advisory of the American Cancer Society – Eastern Division.
Prior to joining Capital Health, Dr. Chen was an attending radiation oncologist at Saint Claire's Health System at its Denville and Dover campuses, vice chairperson of the Department of Radiation Oncology at Morristown Memorial Hospital and an attending radiation oncologist at North Shore/LIJ University Hospital in Manhasset, Long Island, NY. He earned his medical degree from Universidad Tecnologica De Santiago College of Medicine in Santo Domingo, Dominican Republic. He started his residency training at the Department of Radiation Oncology at the State University of New York (SUNY) Science Center at Syracuse and completed his residency at the Department of Radiation Oncology at The New York Hospital Cornell Medical Center where he was elected chief resident in his senior year. He also was a visiting fellow in Pediatric Radiation Oncology at the Joint Center for Radiation Therapy at Harvard Medical College.
He has served as an assistant professor at the SUNY Health Science Center at Stony Brook School of Medicine and as an assistant radiologist on the faculty at The New York and Presbyterian Hospital Cornell University, School of Medicine. He is the author of several textbook chapters and multiple scientific publications and has been an invited speaker at various regional conference and hospital grand rounds.
Dr. Chen has specialty interests in gynecological malignancy, lung cancer, brachytherapy (LDR/HDR) and CyberKnife® Radiosurgery. He is also fluent in Mandarin and Taiwanese.
Khanh Nguyen, MD, MA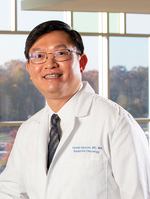 Dr. Khanh Nguyen is a board certified radiation oncologist with nearly 20 years of experience offering state-of-the art treatments for patients with prostate, lung, breast, and central nervous system (CNS) tumors and other adult malignancies. Through meticulous treatment planning and treatment response analysis, Dr. Nguyen develops personalized plans of care to meet each patient's specific needs. He is an expert in advanced treatment modalities including accelerated partial breast irradiation, stereotactic radiosurgery/stereotactic body radiation therapy, intensity modulated radiation therapy/image guided radiation therapy, magnetic resonance imaging/magnetic resonance spectroscopy, and positron emission tomography/computed tomography.
After completing undergraduate and graduate studies in physics at Harvard University, Dr. Nguyen received his medical degree at the University of California, San Diego, School of Medicine (UCSD). While at Harvard, he completed his graduate thesis with his mentor at Harvard Medical School. He also completed a thesis with one of the pioneers in tumor immunology at UCSD. His internship in internal medicine at Pennsylvania Hospital in Philadelphia (part of University of Pennsylvania) was followed by a residency in radiation oncology at Fox Chase Cancer Center, also in Philadelphia. At Fox Chase, he trained with world leaders whose clinical research set the standards of care in breast and prostate cancer managements.
Before joining Capital Health, Dr. Nguyen was a radiation oncologist at Bayhealth Medical Center in Dover, Delaware. At Bayhealth, as a member of the Penn Cancer Network, he implemented programs in high dose rate brachytherapy and stereotactic radiosurgery/stereotactic body radiation therapy, as well as a multidisciplinary neuro-oncology clinic. These programs allowed patients to receive state-of-the art care close to home. In academic settings, he served an assistant professor in the Division of Radiation Oncology at City of Hope National Medical Center in Duarte, California. He also had the privilege of working with Dr. David Townsend, inventor of the PET-CT scan, in the Cancer Imaging & Tracer Development Program at the University of Tennessee Graduate School of Medicine in Knoxville, Tennessee.
Dr. Nguyen has been the principal investigator and collaborating investigator in numerous studies related to cancer imaging, radiation therapy, and stereotactic body radiosurgery. He has published research in peer-reviewed journals and presented lectures at national and international medical conferences. Dr. Nguyen is a member of the American Society for Radiation Oncology (ASTRO), the American Radium Society, and the American Brachytherapy Society.