Interventional Pulmonologist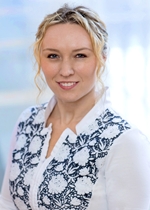 Dr. Diana Kolman is an interventional pulmonologist with experience in performing advanced upper thoracic tests and procedures that include:
Rigid bronchoscopy
Placement of self-expanding stents/silicone stents
Argon plasma coagulation/cryotherapy/cryospray/microdebrider
Endobronchial valve placement
Electromagnetic navigation with fiducial marker placement
Radial and convex endobronchial ultrasounds
Pleuroscopy with talc pleurodesis/pleural biopsies, pleurx (intrapleural catheter placement)
Percutaneous tracheostomies
Transthoracic biopsies with fiducial marker placement
Dr. Kolman is board certified in pulmonary and critical care.  After completing her internship and residency in internal medicine at Drexel University College of Medicine in Philadelphia, PA, Dr. Kolman was fellowship trained in interventional pulmonology at Cooper University Hospital in Camden, NJ. She received her medical degree from Ross University School of Medicine, in Dominica/West Indies.
In addition to her role as an interventional pulmonologist at Capital Health, Dr. Kolman is also director of Capital Health's new Pulmonary Rehabilitation Program.
Prior to joining Capital Health, Dr. Kolman was at Cancer Treatment Centers of America in Philadelphia, PA. She has presented research in pulmonary and critical care for several symposiums and conferences and is a member of the American Thoracic Society, the American Association for Bronchology and Interventional Pulmonology, and the American College of Physicians. She is fluent in Polish.

Click here to schedule an online appointment with Dr. Kolman.
Click here for a list of accepted insurances at Capital Health - Pulmonology Specialists.