Heartburn and acid reflux are common conditions, but if you're experiencing chronic symptoms, you may have gastroesophageal reflux disease (GERD). Left untreated, GERD can cause damage to the lining of the esophagus and lead to Barrett's esophagus, a pre-cancerous condition that is estimated to affect more than 12 million adults in the United States. In a more severe form of Barrett's, the lining of the esophagus also contains dysplasia (cells that are turning into cancer).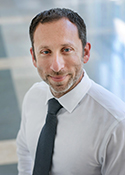 "Barrett's esophagus commonly goes undiagnosed and can lead to esophageal cancer, making it a potentially life-threatening condition of the digestive system," said Dr. Jason Rogart, director of Interventional Gastroenterology & Therapeutic Endoscopy at Capital Health. "With the advanced screening options available at our Center for Digestive Health, we work to identify Barrett's in its earliest stages. Our goal is to identify disease progression early, when it can be treated endoscopically, without the need for surgery."
Dr. Rogart leads the Barrett's esophagus and GERD Program at the Capital Health Center for Digestive Health, which offers these advanced screening, diagnostic and treatment options:
High-definition endoscopy with narrow band imaging: Detailed imaging further enhanced by a special filter that focuses light to specific wavelengths for greater image contrast and clarity.
Video Laser Endomicroscopy (VLE): High-resolution, crosssectional imaging of the outermost lining of the esophagus. Studies show this to have greater than 98 percent accuracy in detecting Barrett's. Our experienced team at Capital Health was the first in New Jersey to offer VLE.
WATS3D (wide-area transepithelial sampling with 3D computer analysis): A brush biopsy technique that can detect Barrett's and increase the detection of cells that are turning into cancer.
Molecular/DNA analysis of Barrett's esophagus: Tissue samples collected via endoscopy are tested for the presence of biomarkers that may indicate a higher risk of progression to cancer before the development of invasive tumors.
Endoscopic ultrasound (EUS): Special scopes with small ultrasound probes at the tip are inserted into the esophagus to examine nodules that may arise within Barrett's esophagus. If the nodules contain cancer or if there are abnormal lymph nodes outside the esophagus, they can be sampled under EUS-guidance with fine needle aspiration.
Bravo™ pH probe: Via endoscopy, a small capsule is temporarily attached to the wall of the esophagus to measure pH levels, record GERD symptoms, and transmit readings to a small wireless receiver you wear on your waistband.
24 hour pH testing with impedance and esophageal manometry: A thin catheter is passed through the nose into the esophagus to measure whether acid or non-acid contents from the stomach are refluxing into the esophgaus. The pattern of muscle contraction within the esophagus can also be checked for abnormalities.
Stretta anti-reflux endoscopic therapy: An endoscopic alternative to medical or surgical treatment of GERD, this is a safe and effective minimally invasive endoscopic procedure that is typically performed in less than 60 minutes on an outpatient (same-day) basis. It has been shown to significantly reduce and even eliminate GERD symptoms, such as heartburn, by reducing esophageal acid exposure. Our experienced team at Capital Health was the first in New Jersey to offer Stretta.
Capital Health Center for Digestive Health is advancing the level of care available to patients in the region by providing comprehensive, state-of-the art diagnostics and treatments for a wide range of medical conditions involving the entire digestive system, all in one location at Capital Health Medical Center - Hopewell. To learn more, visit capitalhealthGI.com or call 609.537.5000 to make an appointment.