Dr. Jooyeun Chung, Medical Director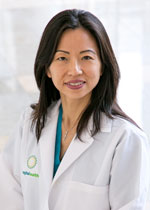 Dr. Chung is the medical director of the Metabolic & Weight Loss Center at Capital Health Medical Center - Hopewell. She is a fellowship-trained surgeon who specializes in diagnosis and treatment of metabolic disorders, with a special focus on minimally invasive procedures.
She has personally performed hundreds of weight loss surgeries. Before joining Capital Health, Dr. Chung was a surgeon at Brigham and Women's Hospital and instructor at Harvard Medical School in Boston. She is board certified by the American Board of General Surgery, and a published author of several peer-reviewed papers. 
Click here for a list of accepted insurances at the Capital Health Metabolic & Weight Loss Center.
Meet the rest of the team
The program we've put together at Capital Health is unique in its comprehensive, integrated approach. We offer multiple disciplines all in one convenient location. By surrounding you with a highly experienced team, we address the medical, behavioral, and nutritional issues related to obesity. 
We consider every aspect of your health, which is why your team not only includes Capital Health surgeons, like Dr. Chung, but also specialists in other disciplines critical to achieving success. Each has a special role in helping you achieve the outcome you desire. But remember, you're a part of this team, too. In fact, you're its most important member.
Registered Dietitian
You'll work, one-on-one and in a group setting, with our registered dietitian to prepare you for weight loss surgery and long-term maintenance. The focus will be on offering solutions to problematic eating behaviors and nutritional issues.
Meet Theresa Balestrieri, MS, RD
Theresa Balestrieri is the registered dietitian at the Metabolic & Weight Loss Center at Capital Health Medical Center – Hopewell. Theresa enjoys working with clients to address their individual needs to improve their overall health and wellness by focusing on increasing their nutrition-related knowledge, improve food choices and activity levels in order to achieve sustainable weight loss. She previously worked as the clinical dietitian at Capital Health and Robert Wood Johnson University Hospital, where she assessed patients nutritionally in surgical, oncology, cardiac and critical care units.
Theresa earned her Bachelor's of Science degree in Nutrition and Food Science from Rutgers University in New Brunswick, NJ, and her Master's of Science in Food and Nutrition from Montclair State University in Montclair, NJ. Theresa completed her dietetic internship with Sodexo at Capital Health, St. Lawrence Rehab, Abbington Nutrition Center and Jefferson Health Outpatient Nutrition Center. She is a member of the Academy of Nutrition and Dietetics (AND) and the American Society for Metabolic and Bariatric Surgery.
Psychologist
The decision to undergo weight loss surgery requires careful thought. It's a decision that is complex, intensely personal, and means permanent lifestyle changes. For these reasons, we require a behavioral health evaluation with our psychologist. We'll discuss your expectations and motivations. We'll work with you to consider the habits, behaviors, and emotions that can affect your success. We'll make sure you understand the lifelong implications of this decision. Success is only possible with full commitment and compliance.
Education and support groups
Being surrounded by people who are on the same life-changing journey as you can contribute enormously to helping you reach a healthier weight. You learn from others who have already had the surgery. You're part of a group that understands exactly what you're going through and are eager to share what they've learned and experienced.