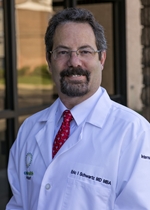 Executive Director, Institute for Urban Care
Dr. Eric Schwartz is responsible for the planning and strategy behind Capital Health's Institute for Urban Care. The Institute's mission is to coalesce, grow and align the services of Capital Health with those of the community and other partners to advance the health and well-being of the residents of Trenton. The Institute focuses on the enhancement of health care services within the Trenton community by understanding and optimizing the patient experience and supporting Capital Health's role as a regional leader in health care.
Dr. Schwartz is a board certified internist with sub-specialty training in gastroenterology. He earned his MBA in Health Care Management from the Fox School of Business and received a certificate in Managing Health Care Delivery from the Harvard Business School. With more than 20 years of experience as a physician leader in international, public, private, and academic settings, he has played a major role in transforming hospitals and physician groups to optimize quality outcomes, patient experience, and organizational value.
Before joining Capital Health, Dr. Schwartz led the 400-clinician Medical Group of the Christiana Care Health System. He also served as the Chief Medical Officer of Henry J. Austin Health Center (a federally qualified health center), where he authored grants and developed novel programming to tackle HIV/AIDS, Hepatitis C, childhood obesity, and behavioral health challenges in the Trenton community. He is a Board Trustee of two non-profits in the community - Trenton Health Team and Arm in Arm - and former member of Robin Hood Ventures, one of the region's largest angel investing groups.
Dr. Schwartz received his medical degree from the Sackler School of Medicine in Tel Aviv, Israel. He was trained in internal medicine at Montefiore Medical Center in Bronx, New York and completed a fellowship in gastroenterology at Temple University in Philadelphia, Pennsylvania. Dr. Schwartz is a member of a number of professional organizations, including recognition as a Fellow of the American College of Physicians, the American Association for Physician Leadership, and the American College of Healthcare Executives.