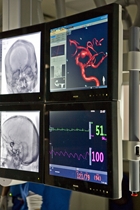 At Capital Health, we designed our neurosurgical facilities with the patient in mind, which means areas of care located in quick proximity to each other.
We offer a neuro endovascular suite and operating rooms staffed by a talented team of experts who work seamlessly together to address the unique needs and requirements of our patients. This can include specialized nurses, radiologic technologists, nurse anesthetists, and surgical neurophysiologists.
Our neuro operating rooms include image guidance, neurophysiology monitoring and intraoperative angiography.
In our neuro endovascular suite at Capital Health Regional Medical Center, neurosurgeons use biplane imaging to assess patients and treat them using minimally invasive approaches for aneurysms, arteriovenous malformations (AVMS), stroke, carotid stenosis, and intracranial atherosclerosis.