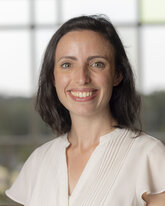 Dr. Rebecca Shipkin is board certified in family medicine. She received her medical degree from Rutgers Robert Wood Johnson Medical School in New Brunswick, New Jersey, where she went on to complete her residency in family medicine.  She also received a master's degree in public health from the Harvard T.H. Chan School of Public Health in Boston, Massachusetts.
Dr. Shipkin loves working in primary care across the lifecycle and has a particular interest in reproductive health, maternal health and breastfeeding medicine. She is passionate about listening to her patients and addressing social determinants of health with individuals and communities.
In her spare time, Dr. Shipkin enjoys baking and spending time with her two young daughters.
Click here to schedule an appointment online with Dr. Shipkin.
Click here for a list of accepted insurances at Capital Health Primary Care - Brunswick Avenue.