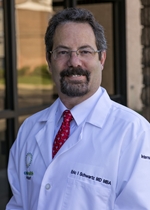 Dr. Schwartz is the executive director of Capital Health's Institute for Urban Care, which focuses on improving health care services in the Trenton community by understanding the patient experience and supporting Capital Health as a regional leader in health care. As a practicing internal medicine doctor at Capital Health Primary Care – Brunswick Avenue, Dr. Schwartz is committed to providing comprehensive team-based care to his patients.
Dr. Schwartz is a board certified primary care internal medicine specialist. He earned his MBA in Health Care Management from the Fox School of Business and received a certificate in Managing Health Care Delivery from Harvard Business School. With more than 20 years of experience as a physician leader in international, public, private, and academic settings, he has played a major role in improving a number hospitals and physician groups.
Dr. Schwartz received his medical degree from the Sackler School of Medicine in Tel Aviv, Israel. He was trained in internal medicine at Montefiore Medical Center in Bronx, NY and completed a fellowship in gastroenterology at Temple University in Philadelphia, PA. Dr. Schwartz is married and three daughters.
Click here to schedule an appointment online with Dr. Schwartz.
Click here for a list of accepted insurances at Capital Health Primary Care - Brunswick Avenue.