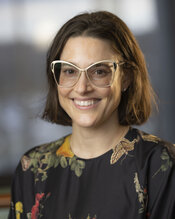 Dr. Bonaccorsi is board certified in family medicine. She is a New Jersey native and graduated from Princeton University. She trained at the University of Pennsylvania and Philadelphia College of Osteopathic Medicine. Dr. Bonaccorsi completed her residency in family medicine at the University of Illinois School of Medicine in Chicago, Illinois where she was chief resident. 

Prior to joining Capital Health in 2022, Dr. Bonaccorsi worked in private practice and was Associate Program Director of the Family Medicine Residency Program at AMITA Saint Joseph Hospital and Seton Family Health Center in Chicago, Illinois. 

Dr. Bonaccorsi's professional interests include minor surgical procedures, health literacy and clinical informatics. Her care philosophy is based on patient education and informed decision-making. In her personal life, Dr. Bonaccorsi is enthusiastic about fashion, food, exercise, and having fun with her husband and twin daughters.
Click here for a list of accepted insurances at Capital Health Primary Care - Brunswick Avenue.