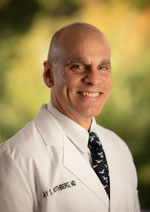 Dr. Rothberg completed his undergraduate studies in May of 1986, cum laude from Long Island University, Greenvale, New York. He graduated with a Bachelor of Science degree, majoring in biology and minoring in chemistry.
Dr. Rothberg's graduate studies were completed at Robert Wood Johnson Medical School-University of Medicine and Dentistry of New Jersey in June 1990. After graduating, he continued onto his postgraduate studies at Cooper Hospital, Camden Campus of Robert Wood Johnson Medical School-UMDNJ where he served as chief resident in 1994.
Dr. Rothberg started his medical career by joining the staff of Helene Fuld Medical Center in Trenton, NJ, the Medical Center at Princeton in Princeton, NJ, and Mercer Medical Center in Trenton, NJ from 1994 through 1997. He was also on courtesy staff at Hamilton Hospital of Robert Wood Johnson in Hamilton Square, NJ from 1995 to 1998. Currently, Dr. Rothberg is on staff at St. Mary Medical Center in Langhorne, PA and Capital Health Medical Center - Hopewell. He currently holds the position of Department Chair for the OB/GYN staff at St. Mary Medical Center. He is also on staff at Lower Bucks Hospital in Bristol, PA and has been on staff since 1998 through the present.
Dr. Rothberg's many certifications include: National Board of Medical Examiners; American Board of OB/GYN; and Annual Board of OB/GYN Recertification. Dr. Rothberg is also a Fellow of the American College of Obstetrics and Gynecology (1997).
Prior to December 2009, Dr. Rothberg ran a private practice of his own. To provide better service and to be able to offer his patients newer technology, he joined Women's Specialists of Bucks County.
Dr. Rothberg is married and has two children. He enjoys cycling and running marathons during his down time.
Click here to schedule an online appointment with Dr. Rothberg.
Click here for a list of accepted insurances at Capital Health OB/GYN - Langhorne.