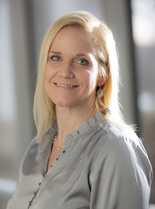 Christine received her Bachelor's degree in nursing from University of Nebraska in 1997 and began her nursing career in Omaha, Neb. She went on to receive her Master's degree in nursing from Case Western Reserve University and certification in nurse-midwifery from Frontier School of Midwifery and Family Nursing in 2004. Caring for women has been Christine's passion ever since she started nursing school.
Christine has been a resident of Bucks County, Pa. for 4 years. She was born in California but grew up in South Dakota before moving to Nebraska for college. She is married with two sons and a stepdaughter.
In her free time, Christine enjoys running, weight training, walking her English bulldog. She loves cooking and getting together with friends and family. Curling up with a great book is something else she loves but isn't always able to make time for.
Click here for a list of accepted insurances at Capital Health OB/GYN - Hamilton.