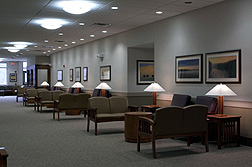 In its pursuit of providing the highest quality care with the greatest patient convenience, Capital Health has recently opened an outpatient facility in Hamilton Township. Capital Health - Hamilton provides one stop shopping to reduce the need for multiple trips and appointments. Within this one facility, patients can see primary care physicians by appointment or on a walk-in basis, visit a range of specialists, experience a host of outpatient radiology and laboratory services, and undergo same-day surgery. In addition, Capital Health - Hamilton expanded its diagnostic capabilities in 2007 with the opening of a new building, which features the Center for Sleep Medicine, offices for physicians in the Capital Institute for Neurosciences, and the Center for Women's Health.
To help our patients feel most comfortable during their visit, we've created an environment designed to appeal to all senses. Upon stepping inside, Capital Health - Hamilton visitors will instantly find themselves immersed in a beautiful setting with gardens, fountains, and resort style waiting lounges.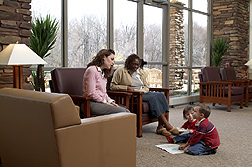 This attention to detail also extends to areas not so easy to see the quality of care patients receive. Capital Health - Hamilton offers the latest in technology to make sure you receive the highest level of care. At Capital Health - Hamilton, patients are screened by state-of-the-art digital mammograms, diagnostic ultrasounds, and leading edge surgical equipment all designed to enhance your physician's ability to accurately diagnose and treat various conditions. Visit Capital Health - Hamilton and experience healthcare designed the right way.