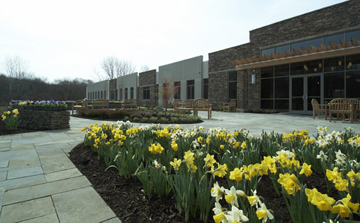 At Capital Health - Hamilton, our primary goal is to offer an extraordinary combination of state-of-the-art diagnostic equipment and provide comprehensive healthcare from board certified physicians in one convenient location. One of the aspects that makes us a unique healthcare facilities is our variety of amenities that allow visitors to feel comfortable at our facility. We want our patients and their loved ones to feel as relaxed and comfortable as possible, while also knowing that they are receiving the highest quality patient care.
Fasting before a diagnostic test can be tasking. At Capital Health - Hamilton, you don't have to wait for your results to come back before grabbing a bite to eat. Visitors can make themselves comfortable at the bistro located within our facility. Stop by for an array of grab-and-go foods.
Step into our healing gardens, a space designed to heal your state of mind as well as your body. Surrounded by a variety of flora, fountains, and a flag stone terrace, fresh air seating is open to all visitors.