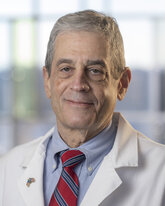 Dr. Seinfeld is board certified in cardiothoracic surgery and has more than 40 years of experience in the surgical field. He specializes in thoracic surgery, vascular surgery, and cardiovascular disease. Dr. Seinfeld completed his residency and fellowship training in cardiothoracic surgery at Yale-New Haven Hospital in New Haven, Connecticut. He completed his general surgery residency at New York University Medical Center in New York, New York and received his medical degree from SUNY at Buffalo School of Medicine in Buffalo, New York.
Prior to joining Capital Health Cardiac Surgery Specialists, Dr. Seinfeld was medical director of the Vascular Laboratory and chairman of the Department of Cardiothoracic Surgery at St. Francis Medical Center in Trenton, New Jersey and regional director of Cardiothoracic Surgical Critical Care at Our Lady of Lourdes Medical Center in Camden, New Jersey.
Dr. Seinfeld is a fellow of the American College of Surgeons and is a member of the Society of Thoracic Surgeons and the Yale Surgical Society.
Click here for a list of accepted insurances at Capital Health Cardiac Surgery Specialists.