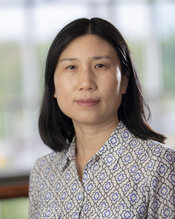 Dr. Hongyan Liang is board certified in hematology, oncology, and internal medicine. Dr. Liang is the medical director of Digestive Medical Oncology at Capital Health Cancer Center. She has extensive experience in treating cancer of the digestive system and is interested in clinical research bringing innovative technologies and novel therapies to cancer patients. 
Dr. Liang holds a Ph.D. in Biochemistry from Michigan State University in East Lansing, Michigan. She completed her internal medicine residency at Albert Einstein Medical Center in Philadelphia, Pennsylvania, and she was fellowship trained in hematology and oncology at UMDNJ - Robert Wood Johnson Medical School in New Brunswick, New Jersey. Dr. Liang earned her medical degree from Peking Union Medical College in Beijing, China. 
Prior to joining Capital Health, Dr. Liang served as a hematologist/oncologist at Rittenhouse Hematology/Oncology in Philadelphia, Pennsylvania. She then joined Mercer Bucks Hematology Oncology which has become part of Capital Health. She looks forward to continuing serving patients in Central New Jersey and Lower Bucks County in Pennsylvania. 
Throughout her career, Dr. Liang's hematology and oncology research has been published in various peer-reviewed medical journals. She is a member of the American Society of Hematology and the American Society of Clinical Oncology. Dr. Liang is also a clinical assistant professor in the Department of Medicine/Division of Hematology and Oncology at Drexel University College of Medicine in Philadelphia, Pennsylvania. She is fluent in Chinese (Mandarin).