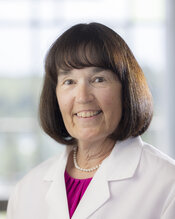 Dr. Pamela Crilley is board certified in medical oncology and internal medicine. Dr. Crilley received her medical degree from Philadelphia College of Osteopathic Medicine and completed her internal medicine residency at Delaware Valley Medical Center in Bristol, Pennsylvania, where she also served as chief resident. She completed her fellowship training in hematology and oncology at Hahnemann University in Philadelphia, Pennsylvania where she also served as chief fellow. 
Prior to joining Capital Health, Dr. Crilley shared her knowledge and expertise as a professor of medicine most recently at Drexel University College of Medicine in Philadelphia, where she also served as the division chief for hematology and medical oncology. In this role, Dr. Crilley taught medical students, residents, and fellows. Dr. Crilley also served as a hematologist/medical oncologist and chair of Medical Oncology at Cancer Treatment Centers of America (CTCA) in Philadelphia. While at CTCA, Dr. Crilley also served as program director of the Stem Cell Processing Laboratory. 
Throughout her career, Dr. Crilley has conducted extensive research focusing on hematology and oncology. Additionally, her research has been published in numerous peer-reviewed medical journals. Over the years, Dr. Crilley presented her findings at national and regional medical conferences. 
Dr. Crilley is a member of various medical professional associations, including the American Society of Hematology, the American Society of Clinical Oncology, the American Society for Blood and Marrow Transplantation, and the Advisory Council of the Bone Marrow Foundation.