Dr. Charles Polotti recently joined Capital Health – Urology Specialists, a team of skilled physicians and other medical providers who are highly trained in diagnosing and treating issues related to the urinary tract and men's health issues. 
Dr. Polotti will join Dr. Brad Rogers, Dr. Eric Mayer, Dr. Kaveh Kousari, nurse practitioner Kathie Olson, and physician assistant Thy Pham. The team sees patients at Capital Health Medical Center – Hopewell (Two Capital Way, Suite 407, Pennington, NJ 08534) and Capital Health Specialty Practices – Newtown (3 Penns Trail, 2nd Floor, Newtown, PA 18940). 
"Given his extensive training in advanced robotics and laparoscopy, Dr. Polotti is an excellent addition to our team of urology specialists," said Dr. Brad Rogers, director of Urology at Capital Health. "He brings significant skill and expertise to our team as we continue to provide outstanding care to patients in the greater Mercer, Bucks, and Burlington county area." 
"I'm thrilled to join the team of experienced clinicians at Capital Health – Urology Specialists and help them advance urological health care in the region," said Dr. Polotti. "I look forward to meeting each patient and putting my training to work to provide personalized care for their specific needs."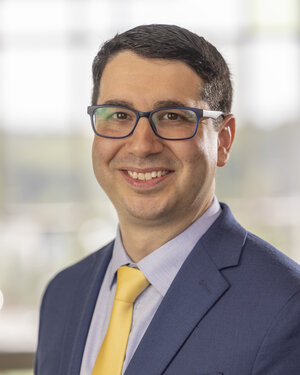 Dr. Polotti earned his medical degree from Drexel University in Philadelphia, Pennsylvania. He completed a surgery internship and his urology residency at Rutgers Robert Wood Johnson Medical School in New Brunswick, New Jersey. At the University of Southern California's Institute of Urology at Keck Medicine of USC, Dr. Polotti earned the Resident Achievement Award for Outstanding Minimally Invasive Surgery (MIS) Resident from the Society of Laparoscopic & Robotic Surgeons. 
The Capital Health – Urology Specialists team is dedicated to providing residents throughout the greater Mercer, Bucks, and Burlington county region with advanced health care in a compassionate and relaxed setting. Their services include state-of-the-art imaging and diagnostics, as well as the latest treatment options, including extracorporeal shockwave lithotripsy and endourology for kidney stones; blue light cystoscopy for early detection of bladder cancer; brachytherapy, Cyberknife®, external beam therapy for prostate cancer; surgical treatment of benign prostatic hyperplasia (BPH); and minimally invasive, robotic-assisted surgery using the da Vinci® surgical system, including partial and total nephrectomy, cystectomy, and radical prostatectomy. 
Capital Health – Urology Specialists is part of Capital Health Medical Group, a network of more than 500 primary and specialty care providers who offer easy access to experienced clinicians and the most advanced care in the region at nearby Capital Health hospitals. 
If you would like to schedule an appointment with Dr. Polotti or another experienced member of the Capital Health – Urology Specialists team, call 609.303.4460 or visit www.capitalhealth.org/urology.