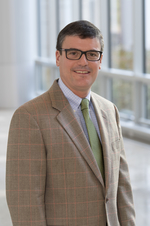 Director, Urologic Robotic Surgery
Director, Center for Retroperitoneal Malignancies
Dr. Eric Mayer is a board certified urologist with expertise in treating all forms of urologic conditions in addition to specializing in minimally invasive robotic assisted urologic procedures using the da Vinci® Surgical System. Dr. Mayer received his medical degree from UMDNJ- Robert Wood Johnson Medical School in New Brunswick, NJ, where he also completed his urology residency.
Before joining Capital Health, Dr. Mayer was chief of Urology and Minimally Invasive Urologic Surgery at St. Luke's Center for Urology, part of St. Luke's University Health Network. He is the first surgeon in Pennsylvania to perform a robotic-assisted laparoscopic prostatectomy using the da Vinci® Surgical System.
Fluent in German, Dr. Mayer volunteers for international surgical missions in his spare time, and also enjoys running, skiing, mountain biking, auto racing, and model building. He is a member of the American Urological Association and the American Medical Athletic Association.
Click here to schedule an online appointment with Dr. Mayer.
Click here for a list of accepted insurances at Capital Health - Urology Specialists.