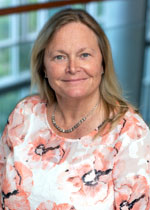 Clinical Coordinator – Urogynecology
Kathie Olson, an advanced practice nurse, clinically focuses on bladder and pelvic health issues. This has been her passion for 30 years. She is trained to assess, diagnosis and treat both urinary and gynecological issues. She has extensive experience with patients with overactive bladder, incontinence, pelvic pain, interstitial cystitis, pessaries for prolapse, and pain with intercourse. In addition, she is versed in urodynamic testing and reading of the studies. Through education and counseling, Kathie strives to empower individuals regarding their bladder and pelvic health.
Kathie, a native of Bucks County Pennsylvania, is a nationally certified women's health nurse practitioner and holds an advanced practice certification in continence care. Kathie completed her undergraduate degree in nursing in 1984 at the University of Delaware in Newark, Delaware. She attended Emory University in Atlanta, Georgia for specialized training in wound, ostomy and continence nursing, becoming certified in 1989. In 2010, she obtained her Master of Science in Nursing degree from the University of Cincinnati in Cincinnati, Ohio.
Before joining Capital Health, Kathie worked in private practice and with women's health care practices in Bucks County, Pennsylvania and surrounding areas providing urogynecological and continence services. Most recently, she was a nurse practitioner with a private urogynecology practice in suburban Phoenix, Arizona. Kathie is a member of the American Urologic Association, Allied; the Wound Ostomy Continence Nurses Society; the International Continence Society; and the International Pelvic Pain Society.
Click here for a list of accepted insurances at Capital Health - Urology Specialists.