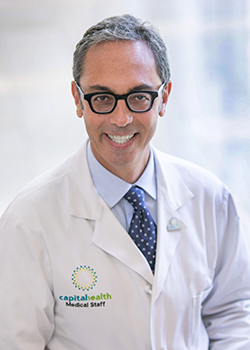 Dr. Cataldo Doria, medical director of the Capital Health Cancer Center and physician director of Capital Health's Center of Excellence in Robotic Surgery, was designated as a Surgeon of Excellence in Robotic Surgery (SOERS) by Surgical Review Corporation (SRC), an independent, nonprofit organization dedicated to advancing the safety, efficacy, and efficiency of surgical care worldwide. The SOERS program recognizes surgeons who demonstrate an unparalleled commitment and ability to consistently deliver safe, effective, evidence-based care.
With this designation, Dr. Doria joins a distinguished network of surgeons and hospitals worldwide performing robotic-assisted surgeries. In addition to serving as medical director of the Capital Health Cancer Center, he is a hepato-pancreato-biliary surgeon specializing in the treatment of benign conditions and cancers related to the liver, pancreas, and bile duct.
"Since joining us in 2018, Dr. Doria has worked tirelessly to advance Capital Health's robotic-assisted surgery program," said Al Maghazehe, president and CEO of Capital Heath. "In 2019, he began offering robotic-assisted Whipple procedures to treat pancreatic cancer at Capital Health, giving us the distinction of being the only hospital in central New Jersey and the greater Philadelphia region to offer this innovative treatment. This was another major step forward in delivering innovative health care to the community, and Dr. Doria and our other surgeons who offer robotic-assisted surgery continue to build upon these advances."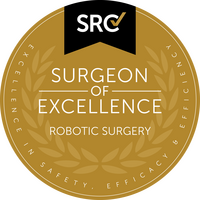 Robotic-assisted surgery allows surgeons to use miniaturized instruments and a 3-D camera for high-resolution images of the surgical site. The platform seamlessly translates the surgeon's hand movements into precise micro-movements. The system cannot be programmed, nor can it make decisions on its own — it requires that every surgical maneuver be performed with direct input from a surgeon.
Throughout his career, Dr. Doria has pioneered new techniques for conditions that were once considered untreatable. He has helped develop and introduce a number of innovative procedures to treat patients that were not previously available, including bloodless liver surgery, liver auto-transplantation and robotic-assisted minimally invasive hepatobiliary surgery.
The volume of robotic-assisted surgeries is expanding as new surgical techniques and procedures are introduced and refined. Considered minimally invasive surgery, it offers patients many benefits, including smaller incisions, lower risk of infection, less pain, and a faster recovery.
Capital Health remains unwavering in its commitment to provide patients cutting-edge health care and advanced cancer treatment. It was among one of the first hospital systems to adopt robotic technology with the purchase of the da Vinci® Xi surgical system.
To learn more Capital Health's Center of Excellence in Robotic Surgery or the da Vinci® surgical platform, visit capitalhealth.org/davinci or call 609.537.6700.