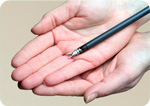 The da Vinci® Surgical System is the only commercially available technology that can provide the surgeon with the precision, dexterity and control of traditional open surgery, while only requiring 1- to 2-cm incisions.
da Vinci® Surgical System consists of an ergonomically designed surgeon's console, a patient cart with four interactive robotic arms, a high-performance vision System and patented EndoWrist® instruments.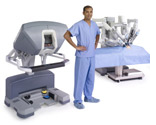 At the da Vinci® console, your surgeon operates while seated comfortably, viewing a highly magnified 3-D image of the body's interior. To operate, the surgeon uses master controls that work like forceps.
As your surgeon manipulates the controls, da Vinci® responds to your surgeon's input in real time, translating his or her hand, wrist and finger movements into precise movements of miniaturized instruments at the patient-side cart.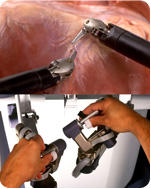 da Vinci®'s patient cart holds up to three EndoWrist® instruments and one 3-D camera. To access the target anatomy, your surgeon introduces the precisely controlled EndoWrist® instruments into the body through a series of dime-sized incisions. A broad range of instrument types are available to help your surgeon perform specialized surgical tasks with precision and control.
While clinical studies support the effectiveness of the da Vinci® System when used in minimally invasive surgery, individual results may vary. Surgery with the da Vinci® Surgical System may not be appropriate for every individual. Always ask your doctor about all treatment options, as well as their risks and benefits.