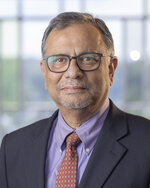 Dr. Syed Asghar is board certified in pulmonary disease and critical care medicine and specializes in airway diseases of the lungs. He completed fellowship training in pulmonary medicine and critical care medicine at the Health Science Center at Brooklyn, State University of New York (SUNY) in Brooklyn, New York, where he focused on the diagnosis and treatment of a range of critical care illnesses, chest diseases, and sleep disorders. Dr. Asghar received his medical degree from Rawalpindi Medical College, University of Punjab in Rawalpindi, Pakistan.
Before joining Capital Health – Pulmonology Specialists, Dr. Asghar spent many years in private practice and as a hospitalist, attending physician, and in leadership roles at Capital Health Regional Medical Center and other hospitals in Mercer and Bucks counties. He also practiced in Saudia Arabia, where he was the chairperson of the intensive care unit at Dr. Soliman Fakeeh Hospital, the largest teaching hospital in the Middle East. 
Dr. Asghar is a member of American Thoracic Society and the American College of Chest Physicians and speaks English, Hindi, Urdu, Punjabi, and Arabic.      
Click here for a list of accepted insurances at Capital Health - Pulmonology Specialists.