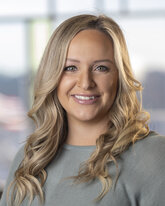 Ashleigh Tepper is a board certified women's health nurse practitioner. She earned her Bachelor of Science in Nursing degree from Penn State University in State College, Pennsylvania and her Master of Science in Nursing—Women's Health and Gender-Related Nurse Practitioner degree from Drexel University in Philadelphia, Pennsylvania. 
Before joining Capital Health OB/GYN, Ashleigh worked as a maternal-child health registered nurse at Capital Health Medical Center – Hopewell, providing postpartum care to mothers and their infants and education on breast feeding, contraception and newborn care. She also has experience caring for women with high risk pregnancies.
In her free time, Ashleigh enjoys reading and enjoying the beach with her family.