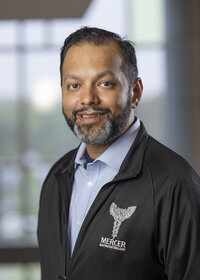 Dr. Ravinder Dhillon is a board certified, fellowship trained gastroenterologist who specializes in diagnosing and treating a range of conditions that affect the digestive health, including gastroesophageal reflux disease (GERD), Barrett's esophagus, eosinophilic esophagitis (EoE), peptic ulcer disease, irritable bowel syndrome, celiac disease, gastrointestinal bleeding, chronic liver disease, inflammatory bowel disease, pancreatitis, and other gastrointestinal conditions. Dr. Dhillon is trained in diagnostic and therapeutic upper endoscopy and colonoscopy, with experience in deep (single balloon) enteroscopy as well as video capsule endoscopy.
Dr. Dhillon was born and raised in Yardley, PA and was accepted into the 7 year Honors Program in Medical Education at Northwestern University, where he received his BA in History (Honors) and subsequently his medical degree from Northwestern's Feinberg School of Medicine in Chicago.
He pursued postgraduate training with board certification in internal medicine at Thomas Jefferson University Hospital in Philadelphia, Pennsylvania, and remained there to complete fellowship training in Gastroenterology and Hepatology. He published gastroenterology research and review articles in peer-reviewed medical journals, and presented his research at local and national gastroenterology meetings.
Dr. Dhillon joined Mercer Gastroenterology (now Capital Health - Gastroenterology Specialists) in 2008, and was section chief of Gastroenterology at Capital Health from 2012-2020. In his leisure time, he enjoys spending time with his wife and three children, as well as reading, playing tennis, and basketball.
Click here for a list of accepted insurances at Capital Health Gastroenterology Specialists – Hopewell.