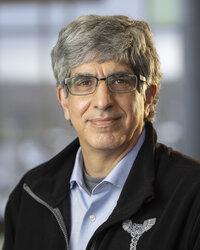 Dr. Simonian has been an active member of the Capital Health Medical Staff since 1996 when he completed his fellowship in gastroenterology. Prior to joining Capital Health - Gastroenterology Specialists, he was a partner with Mercer Gastroenterology.
A former chairperson for the Department of Medicine at Capital Health, Dr. Simonian received his medical degree from UMDNJ-Robert Wood Johnson Medical School in Camden, NJ. He completed his residency in internal medicine at Thomas Jefferson University Hospital in Philadelphia, PA. At Cooper Hospital/University Medical Center in Camden, he completed a fellowship in gastroenterology and liver diseases. He is a diplomate of the National Board of Medical Examiners.
Dr. Simonian is a former member of the Strategic Planning Committee for Capital Health and serves on the board of the Mercer County Surgery Center. At Capital Health, he has also been an active member of the Medical Executive Committee, a current member of the Professional Practice Committee, the physician champion for implementation of the new electronic medical system, and a teaching attending physician for the Capital Health Internal Medicine Residency Program. He has been voted a New Jersey "top doc" in a variety of publications and treats a wide array of gastrointestinal diseases.
Dr. Simonian is also the medical director of the Center for Digestive Health and former Chief of Gastroenterology at Capital Health. As medical director of the Center, he helps guide referring physicians and their patients to the appropriate advanced digestive health tests and treatments available at Capital Health, and as a board certified gastroenterologist, he provides comprehensive diagnosis and treatment of benign and malignant disorders of the digestive tract. These include conditions in the esophagus, stomach, duodenum, pancreas, biliary tract, liver, the small bowel and colon.
Click here for a list of accepted insurances at Capital Health Gastroenterology Specialists – Hopewell.