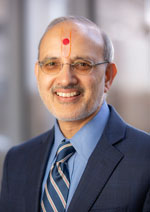 Dr. Rajiv Vyas is board certified in psychiatry and addiction medicine. He has extensive clinical experience treating individuals with a wide range of behavioral health conditions in outpatient, intensive outpatient, and inpatient settings. Dr. Vyas has been a champion for the use of medication assisted treatment (MAT) for substance use disorders and has passionately advocated for its utilization with local and state organizations.
Dr. Vyas is an adjunct clinical assistant professor of Psychiatry at Rowan University School of Osteopathic Medicine in Stratford, NJ. He received his medical degree from St. George's University School of Medicine in Grenada, West Indies and completed his psychiatry residency at St. Francis Medical Center, in Pittsburgh, PA. Before joining Capital Health, Dr. Vyas was medical director of Behavioral Health at Aetna Better Health of New Jersey. He is a fellow of the American Society of Addiction Medicine and the American College of Preventive Medicine.
Dr. Vyas has presented on numerous topics such as medication assisted treatment, understanding ASAM criteria, consultation liaison psychiatry, and assessment of suicidality, psychiatry and the law. He has conducted classes on mindfulness meditation and stress reduction and has a special interest in the interaction of spirituality, faith, and mental health.
Dr. Vyas is actively involved in volunteer activities promoting wider access to health screening and health awareness for uninsured and underinsured individuals in his community. He lives with his wife and two sons in Robbinsville, New Jersey.
Click here for a list of accepted insurances at Capital Health - Behavioral Health Specialists.