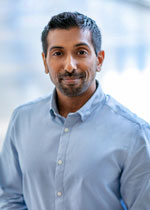 Dr. Bhasker provides care to adult and adolescent patients age 16 and older. He completed his residency in psychiatric medicine at Authority Health Graduate Medical Education in Detroit, MI, where he also served as chief resident. He earned his medical degree at Lake Erie College of Osteopathic Medicine – Seton Hill in Greensburg, PA.
Before joining Capital Health, Dr. Bhasker performed psychiatric evaluations at The Guidance Center in Southgate, MI, where he worked with an integrated team of doctors, nurses, social workers, case managers, and therapists to provide comprehensive care for patients.
Dr. Bhasker is currently involved in research that is studying the rate of post-traumatic stress disorder (PTSD) diagnoses in patients with trauma symptoms. He is a member of the American Psychiatric Association.
Click here for a list of accepted insurances at Capital Health - Behavioral Health Specialists.