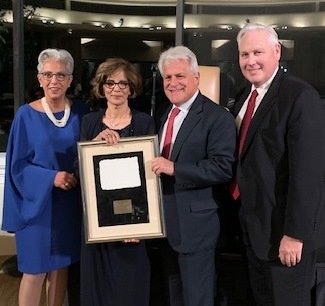 Capital Health is pleased to announce that Dr. Saba A. Hasan is the 2019 recipient of the Dr. Martin Epstein Award for Humanitarian Service. Dr. Hasan received the honor in recognition of the compassionate care she provides for the underserved members of our community and for her outstanding professionalism in educating the next generation of physicians as medical director of Capital Health's Internal Medicine Residency Program.
"From her days as chief resident in our Internal Medicine Residency Program through more than a decade as its director, Dr. Hasan has demonstrated a tireless commitment to promoting better health in our community," said Dr. Eugene McMahon, senior vice president and Chief Medical Officer at Capital Health. "Her work embodies the standards of selflessness and service that inspire this prestigious award."
The Epstein Award honors the memory of Dr. Martin Epstein, who practiced internal medicine at Mercer Medical Center for 34 years. In 1979, Dr. Epstein's friends and family members established a fund to memorialize his contributions to the field of medicine, the hospital and his patients, as well as to encourage physician involvement in the community. Dr. Epstein passed away in 2010 at the age of 90, and this award pays tribute to his remarkable legacy by recognizing a physician, nurse, or staff member for his or her outstanding service and contributions to Capital Health and the greater community. Dr. Hasan received the award at Capital Health's annual Medical Staff Dinner on Saturday, November 2.