Like many children his age, 12-year-old Joseph DiClaudio of Hamilton, New Jersey enjoys the competition that comes with sports, especially when he's representing his school on the basketball court. Joseph thrives when he's part of a team, but after being injured during a game on January 27, 2019, he feared that his season would be cut short.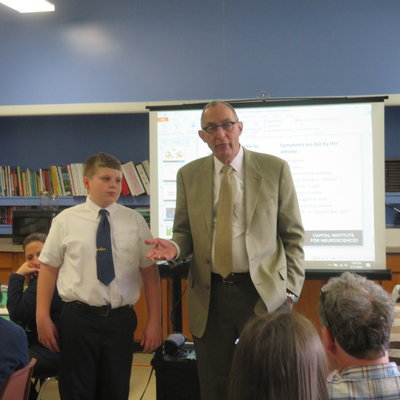 "The first symptoms that I had were all over head pain and some vision problems," said Joseph. "I was taken to the ER at Capital Health Medical Center - Hopewell, where they diagnosed me with having a concussion and referred me to Dr. Matarese for follow up."
Bruises and scrapes are easy to spot, but concussions are unseen injuries that require special care and management to avoid potential long-term consequences. Getting an accurate diagnosis as soon as possible is a crucial first step on the road to recovery. Fortunately for Joseph, Dr. Emil Matarese would be guiding him the rest of the way.
Dr. Matarese is director of the Concussion Program at Capital Health's Capital Institute for Neurosciences and a regional leader in treating concussions and other traumatic brain injuries. According to Joseph, Dr. Matarese helped everyone understand what they were dealing with the day after his injury.
"Dr. Matarese is very knowledgeable and caring," said Joseph. "He did a great job explaining my symptoms, like the change in my eye movement and my headaches. My grandfather, who went to the office with me and my mother, was very impressed!"
Impaired eye movement is common after concussions and makes reading or focusing on a computer screen for extended periods of time difficult for the patient. Rest for the body and the brain is the best course of action for recovery. To many adults, keeping all activity to a minimum may sound like a nice break, but brain rest (which includes no texting, no computers or video games, and minimal TV) can be a real challenge for today's constantly connected young people. "Not resting can make matters worse and extend the time it takes to recover from the concussion," Dr. Matarese warns.
"Dr. Matarese gave me a note for school excusing me from class work, tests, homework, and gym class," said Joseph. "Along with resting my eyes as much as possible to allow my brain to heal, he gave my mother massage exercises to do on my neck to help relieve my headaches. At my appointment the next week, he said that I had recovered nicely and could return to school and sports without restrictions."
Helping children return to play as athletes is important, but their success in school is Dr. Matarese's top priority. He provides workshops for teachers and other school staff so they can gain a better understanding of concussions and make accommodations that allow students to return to learn. Dr. Matarese was so impressed by Joseph's commitment to recovery that he invited his young patient to help with a program for faculty and staff at a Mercer County school.
"This was the first time that I had a middle school student assist me with a presentation for teachers, and Joseph was very motivated to teach others about the need to prevent repeat injuries and permanent brain damage," said Dr. Matarese. "Learning about concussion from a student's perspective was particularly powerful, and we were fortunate to have Joseph share his experience."
To learn more about Capital Health's Concussion Program, part of the Capital Institute for Neurosciences, visit capitalneuro.org. To schedule an appointment with Dr. Matarese, call 609-537-7300.