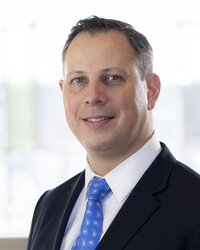 Dr. Oleksiy (Alex) Lelyanov, a board certified and fellowship trained pain management specialist, recently joined Capital Health's Center for Pain Management, part of Capital Institute for Neurosciences. Providers at the Center focus on managing pain that originates with cancer, headaches, head and facial pain, back pain, musculoskeletal pain, nerve damage or disease, and pain from trauma or injuries. The Center's office is located at 680 Middletown Boulevard, Suite 201, Langhorne, Pennsylvania 19047.
Dr. Lelyanov is board certified in pain medicine and anesthesiology. He received his medical degree at the University of Medicine and Dentistry of New Jersey School of Osteopathic Medicine in Stratford, New Jersey and completed an internal medicine internship at Jersey Shore University Medical Center in Neptune, New Jersey. This was followed by an anesthesiology residency at Rutgers Robert Wood Johnson Medical School in New Brunswick, New Jersey, where Dr. Lelyanov also completed fellowship training in pain management.
"Patients are referred to us from a broad spectrum of disciplines, so understanding the source of one's pain and getting an accurate diagnosis are critical first steps in effective treatment," said Dr. Jorge Alvarez, director of Interventional Pain Management at Capital Health's Center for Pain Management. "Dr. Lelyanov brings a wealth of training and experience to our Center, so patients can be confident they're receiving personalized treatment that is meticulously coordinated with all of the physicians involved in their care."
"Capital Institute for Neurosciences is known as a regional leader for providing the most advanced neurological care," said Dr. Lelyanov. "I'm excited to join the Pain Management team and continue this tradition for patients in Mercer County and nearby communities."
Before joining Capital Health, Dr. Lelyanov was in private practice as a pain medicine physician in Toms River, New Jersey. He was also an assistant professor of anesthesiology and pain medicine at Rutgers Robert Wood Johnson Medical School. Dr. Lelyanov has published and presented research in peer-reviewed journals and at national conferences. He is a member of the Spine Intervention Society and the North American Neuromodulation Society.
Capital Health's Center for Pain Management is part of Capital Institute for Neurosciences, which provides the most advanced neuroscience care and treatments for conditions such as stroke, aneurysms, vascular malformations, carotid artery disease, cerebrovascular disorders, brain tumors, brain and spine trauma, and complex spine care. Surgical services include neuroendovascular surgery, neurovascular surgery, microsurgery, brain tumor and skull base surgery, as well as advanced spine surgery. Capital Health's Stroke and Cerebrovascular Center also operates a Mobile Stroke Unit, the first unit of its kind to go live in New Jersey and the Delaware Valley.
To schedule an appointment with Dr. Lelyanov, call 267-802-1002 or visit capitalneuro.org for more information.