Dr. Anil Deshpande, a fellowship trained cardiothoracic and vascular surgeon with more than 40 years of clinical experience, has joined Capital Health Surgical Group – Vascular Surgery at 796 Newtown-Yardley Road, Suite 200, Newtown, PA 18940.
Before joining Capital Health, Dr. Deshpande spent 17 years as chief of Cardiothoracic Surgery at St. Mary's Medical Center in Langhorne, Pennsylvania and worked in private practice in Mercer and Bucks counties. His practice focuses on peripheral vascular surgery.
"Capital Health is known as a health care leader in our region and has a reputation for outstanding patient care," said Dr. Deshpande. "I am excited about being part of the growing number of providers and services they offer to patients in Bucks County."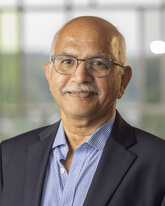 Dr. Deshpande joins Capital Health Surgical Group – Vascular Surgery, a team of fellowship trained surgeons who perform complex open vascular procedures and minimally invasive surgical treatments for a wide spectrum of vascular conditions. In addition to Dr. Deshpande, the practice includes Drs. Joshua A. Eisenberg, Christine Lotto, Jillian Walsh and Kogulan Nadesakumaran, as well as Nurse Practitioner Shannon Renitsky. The team offers minimally invasive surgical options for treatment of potentially life-threatening abdominal and thoracic aortic aneurysms, carotid blockages, and peripheral vascular disease including claudication and limb threatening ischemia. The team also provides minimally invasive and office-based procedures for the treatment of venous diseases including DVT, varicose veins, and spider veins. The practice has offices in Newtown, PA and nearby Hopewell Township, NJ.
As part of Capital Health Medical Group, Dr. Deshpande's office uses a shared electronic medical records system that allows providers to access medical records on a secure network, making it convenient for patients to continue their care across the network of primary and specialty care providers. Patients can also manage their health easier using Capital Health Medical Group's patient portal, which allows patients to conveniently access information about any of their office visits online.
To schedule an appointment with Dr. Deshpande at Capital Health Surgical Group – Vascular Surgery, please call 609-537-5600 or visit capitalsurgical.org/vascularsurgery.