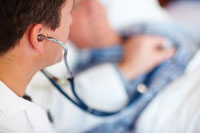 Whether it's scheduling a wellness check-up or you're not feeling well, advanced medicine starts with your primary care doctor. Capital Health's Primary Care Network offers offices throughout the greater Mercer, Bucks and Burlington county region.
We know that convenience matters, and with practices in key locations in your neighborhoods, you can find one that makes the most sense for you. Most of our offices offer evening appointments and all of them offer same-day appointments when you are not feeling well. Not feeling well and need to see a doctor on a Saturday? Capital Health Primary Care – Hamilton offers Saturday sick appointments. Many of our primary care physicians have a long history of serving the communities in our region, so you can also explore the physicians in our network to find the one that you've heard about from your family and friends.
Capital Health's Primary Care Network physicians are part of Capital Health Medical Group, a network of more than 500 health care practitioners including primary care and specialty care physicians and surgeons and other providers, dedicated to providing high quality health care carefully coordinated between those involved in your care.
See a listing of our locations and contact information.