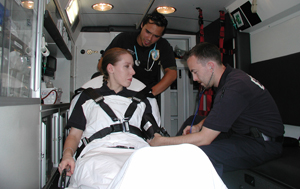 Our Basic Life Support (BLS) Service provides emergency and non-emergency ambulance services and is licensed by the New Jersey Department of Health and Senior Services. The units are staffed by two certified emergency medical technicians (EMTs).
Our emergency service provides 24 hours a day, seven days a week BLS ambulance coverage to the municipalities of Robbinsville Township, Allentown Borough, Upper Freehold Township, and surrounding areas as needed. In addition to serving the municipalities, Capital Health EMS will be supporting local military forces by providing BLS ambulance coverage for Joint Base McGuire-Dix-Lakehurst while their medical units are deployed to support the COVID-19 Vaccination Initiative throughout the nation.
Starting June 1, 2021, Capital Health EMS will be providing BLS ambulance coverage in Pemberton Township and Pemberton Borough.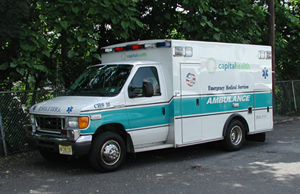 Our non-emergency service provides routine interfacility transports between health care facilities and transports to home upon discharge of non-ambulatory patients. Services are available throughout the Mercer County/Metropolitan Trenton area and surrounding counties and include transports to advanced care facilities in Philadelphia and New York.
Capital Health EMTs are trained to provide basic life support services, including oxygen administration, basic airway management, CPR and defibrillation, bandaging and splinting of wounds, and patient packaging. In addition to state-required training and continuing education requirements, our EMTs are also required to attend training in Pre-Hospital Trauma Life Support (PHTLS) and pass annual skills verifications.