Wilkerson Compere, MD
Dr. Compere is originally from Haiti. He received his medical degree from St. Matthew's University School of Medicine, Cayman Islands in 2011. He completed his undergraduate studies at Stony Brook University, NY, where he earned a bachelor's degree in biological sciences. Dr. Compere received two leadership awards during his undergraduate education. Dr. Compere served as an adjunct faculty at La Guardia Community College for general chemistry. He is a founding member of the National Association Haitian Professionals (NAHP).
Dr. Compere's goal is to be a humanitarian physician, and he used his vacation time on a mission to Haiti. As of October 2014, he is board certified in internal medicine and working as a hospitalist in Dubois, PA.
Alexander Dzivin, MD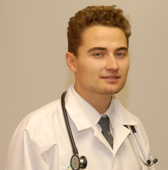 Dr. Divin was born in Belarus (Eastern Europe) He graduated from Vitebsk State Medical University and completed internal medicine residency in his country. He held a position as a Head Physician and practiced in the small country hospital in Volintsi, Belarus for two years. Before joining the Capital Health Internal Medicine Program, Dr. Divin worked for different companies in Chicago, including New Century Diagnostics, Inc. and AMVETS National Cervice Foundation. Additionally, he was doing clinical research as a research assistant at Rush University, Chicago, IL.
Dr. Divin is board certified as of October 2014 and working as a hospitalist in Hawaii. 
Foroozan Famoori, MD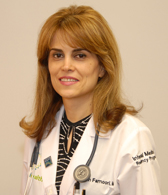 Dr. Famoori completed her medical degree from Isfahan and Shiraz University of Medical Science, Iran. Following graduation, she worked in internal medicine with a keen interest in dermatology. Upon graduation, she had hospital administrative duties in Iran, where she was able to incorporate many significant improvements within emergency room and urgent care which were instrumental in upgrading the outpatient care. She consequently received an Outstanding Leadership Award from the City Council, and additional award from State Medical Bureau. She was invited as a scholar at the University of Southern Florida Pathology Department where she received a certificate of accomplishment. Dr. Famoori is board certified in internal medicine as of October 2014 and in fellowship training in geriatrics at UC San Diego.
Dr. Famoori presented her poster "Congenital Inferior Vena Cava Malformation as a Risk Factor for Deep Venous Thrombosis" at the 2013 National SGIM Conference.
Kirmanj Faraj, MD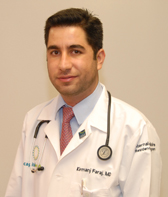 Dr. Kirmanj Faraj is from the Kurdistan region in northern Iraq. He graduated from University of Sulaimani – Medical College in 2006 and he was ranked 6th among his graduating class. Dr. Faraj has an experience of 18 months of residency training in his home country. He came to the United States in 2008, and upon his arrival, he started working in a clinic in Tampa, Florida until he joined the Internal Medicine Residency at Capital Health in 2011.
Dr. Faraj is board certified as of October 2014 and in fellowship training in heart failure at Einstein Medical Center in Philadelphia, Pennsylvania.
Rachna Joshi, MD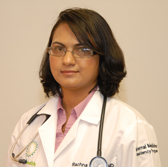 Dr. Rachna Bhavsar Joshi graduated from Government Medical College in Surat, India in 2000. She worked as a general practitioner in India before moving to the US. More recently, she has worked as a research assistant at Harvard Medical School. Dr. Joshi has published a book chapter and has had many review articles published in peer-reviewed journals.
Dr. Joshi graduated from the program in September 2014, and is currently working as a hospitalist at Shore Medical Center in Somers Point, New Jersey.
Jina Makadia, MD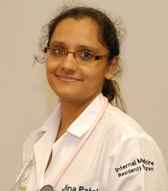 Dr. Jina Makadia was born and raised in Kenya and completed her medical school in Tanzania before moving to the United States to pursue further studies. Before joining the residency, she was doing research work at UMDNJ Hospital at Newark in the Gastroenterology Department.
Dr. Makadia has made poster presentations at SGIM National and Regional meetings. She is in fellowship training in infectious disease at Allegheny Medical Center in Pittsburgh, Pennsylvania.
Akshay Manohar, MD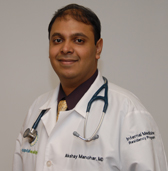 Dr. Akshay Manohar received his medical degree from Kasturba Medical College, Manipal, India in 2009. Following graduation, he was involved in research in nuclear medicine and infectious diseases at Beth Israel Medical Center, New York. He is a winner of the 2011 American College of Physicians' National Abstract Competition and was invited to the national conference in San Diego where he presented his case "The Fruits of Labor: A Baby Boy and IRIS in an HIV-Negative Patient."
Dr. Manohar presented his poster "To Bleed and Not to Bleed: Acute Hematoma and Acute Venous Thrombosis on Warfarin Therapy" at the 2013 National SGIM Conference.  
Dr. Manohar is in fellowship training in infectious disease at the State University of New York at Buffalo.
Anubha Tewary, MD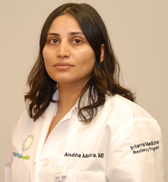 Dr. Anubha Tewary received her medical degree from Motilal Nehru Medical College, Allahabad, India. Prior to joining the residency program, she was involved in clinical research at St. Luke's-Roosevelt Hospital in New York City and completed her Master's in Public Health with a focus in health education and promotion.
Dr. Tewary is board certified in internal medicine and is currently working in our Family Health Center Clinic as part of the Core Faculty for the Internal Medicine Residency Program at Capital Health.
Dhruti Patel, MD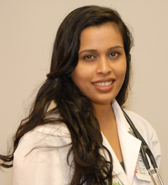 Dr. Dhruti Patel's education has given her an opportunity to travel the world. Beginning with India, where she completed her elementary education, then traversing to Texas where she completed high school and college, then reaching across the ocean to the Caribbean where she finished medical school at Ross University in Dominica. Her education has been a driving force that has formed her beliefs and individuality.
Dr. Patel presented her poster "Serrated Polyposis Syndrome: The Cutting Edge of Colorectal Cancer" at the 2013 National SGIM Conference.
Dr. Patel completed her residency at Capital Health and is board certified in internal medicine as of October 2014, and will practice medicine in Texas.
George Saborio, MD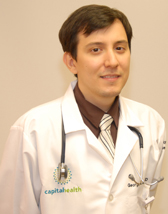 Dr. George Saborio is originally from Long Island, NY, but has lived in Nicaragua for a large portion of his life. He attended medical school at the Universidad Americana (UAM) in Nicaragua where he was active in the community, volunteering in several international campaigns promoting health in developing countries. He is extremely grateful for the opportunity to complete the majority of his clinical rotations through the William Harrington Program at the University of Miami. Prior to becoming a member of the Capital Health family, he participated in multiple research projects, presenting a peer reviewed case-control study at his alma mater. His primary professional interests are cardiology, pulmonary medicine, and sports medicine.
Dr. Saborio was honored to present his poster on "Persistent Hamstring Pain in a Prepubescent Female" at the annual American Medical Society for Sports Medicine Meeting.
Dr. Saborio is currently in fellowship training in sports medicine at Alleghany Medical Center in Pittsburgh, Pennsylvania.
Sreekar Vennelaganti, MD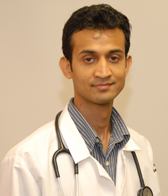 Dr. Vennelaganti received his degree in medicine from Yerevan State Medical University, Armenia in 2004. Prior to residency training at Capital Health, he worked as a clinical tutor at St. George's University, Grenada in the subjects of pharmacology and clinical skills. In 2010 -2011, he was involved in research at Florida State University in Neuro-ophthalmology.
Dr. Vennelaganti is board certified as of October 2014 and is currently in fellowship training in gastroenterology at the University of Kansas.