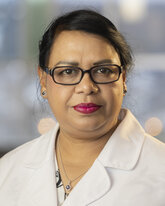 Yasmeen is a board certified nurse practitioner and registered nurse with more than a decade of clinical experience. She received her Bachelor of Science in Nursing degree and her Master of Science in Nursing degree from Drexel University in Philadelphia, Pennsylvania.
Prior to joining Capital Health, Yasmeen was a nurse practitioner at St. Francis Medical Center and Lourdes Medical Associates, both in Mercer County, New Jersey. She has diagnosed and treated patients with chronic and acute illnesses and provided education and counseling for patients. As a registered nurse, Yasmeen previously worked in the Emergency Department and Endoscopy Unit at St. Francis Medical Center and as a special procedures nurse at Capital Health.  
Yasmeen volunteers with the Medical Reserve Corp: Public Health Department of the American Red Cross. She is fluent in Urdu and Hindi.