For anyone who receives care in a hospital, life after discharge can be full of challenges. Depending on the age of the patient and the intensity of care he or she receives, the care path after a hospital stay can lead in a number of different directions, including short-term facilities, long-term care or home. To help bridge the gap from acute care to the varied levels of care outside the hospital, Capital Health has launched a new Post-Acute Care Program that is part of Capital Health Medical Group.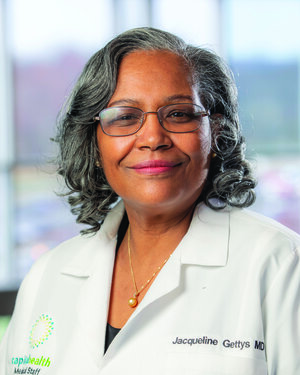 "The prospect of navigating health care after being discharged from the hospital can be daunting for patients and their loved ones," said Dr. Jacqueline Gettys, medical director of Capital Health's Post-Acute Care Program. "I'm excited to lead the new program that aims to improve communication and coordination of care as patients transition out of the hospital so we can achieve the best possible outcomes when they get to their next level of care. While seniors are the most common patient population to be served by the program, our services are available to any patient who receives care at Capital Health."
Acute care is defined as short-term, immediate medical care that is typically for serious illness or traumatic injury. With a focus on recuperation, rehabilitation, and symptom management, Capital Health's Post-Acute Care Program starts working to address a patient's post-discharge needs by providing a complete assessment upon admission to Capital Health Regional Medical Center or Capital Health Medical Center – Hopewell so that goals for each patient are set from the start. To gain a better understanding of each patient's needs, Dr. Gettys will attend hospital rounds with the Transitional Care team, working with nurses, hospitalists, therapists, social workers, and case managers—virtually everyone involved in a patient's care—to develop a personalized discharge care plan.
Outside Capital Health hospitals, Dr. Gettys has established partnerships with short- and long-term care facilities in the region to ensure the best possible services are available for the next part of the patient's health care journey after he or she is discharged.
Dr. Gettys, formerly of Capital Health Primary Care – Ewing, is board certified in internal medicine and geriatric medicine. She received her medical degree at Dartmouth Medical School in Hanover, New Hampshire and completed her residency at Columbia Presbyterian Hospital in New York, New York. She has been a fellow of the American College of Physicians since 2000.