Capital Health has named Deborah Mican, RN, MHA, CNOR as the organization's new chief nursing officer. In this role, Mican is responsible for patient care services, including adult and pediatric nursing (both inpatient and outpatient), Maternal Child Health Services, Adult and Pediatric Clinics, ICU/CCU, Emergency Departments (adult and pediatric), Observation Units, Respiratory Therapy, Mental Health, and Dialysis, departments at Capital Health.
"Deborah has an impressive track record of success in nursing, particularly in leadership roles" said Capital Health president and CEO Al Maghazehe. "We're very fortunate to have her, and I'm excited to be working alongside Deborah as she leads our Magnet® recognized nurses and continues our award-winning tradition of patient care."
Beginning her career as an operating room nurse, Mican brings to her new role more than 30 years of experience that includes nursing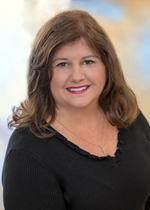 leadership in areas such as quality assurance/quality control, compliance with Joint Commission standards, health care administration, and employee relations. She joins Capital Health from Our Lady of Lourdes Memorial Hospital in Binghamton, NY, where she was vice president of Nursing and chief nursing officer. Under her leadership, Lourdes met and exceeded organizational goals in patient satisfaction, earned re-designation of Magnet® status, and earned accreditation from The Joint Commission, the American College of Surgeons (from programs such as the National Accreditation Program for Breast Centers and the Commission on Cancer), and the American Society of Metabolic and Bariatric Surgery, among others.
Mican holds a Master of Health Administration degree from the University of Scranton in Scranton, PA and dual bachelor's degree in nursing and psychology from Wilkes University in Wilkes Barre, PA.
"With four consecutive Magnet designations, Capital Health's commitment to nursing excellence is unquestionable," said Mican. "The organization's dedication to the communities we serve is a driving force behind these successes, and I look forward to working with leadership and our entire nursing team to continue these traditions of providing high quality patient care and pursuing new opportunities to meet the health care needs of the region."
About Capital Health
Capital Health is the Central New Jersey/Lower Bucks County region's leader in providing progressive, quality patient care with significant investments in physicians, nurses and staff, as well as advanced technology. Comprised of two hospitals (Capital Health Regional Medical Center in Trenton and Capital Health Medical Center – Hopewell), a Hamilton outpatient facility, and various primary and specialty care practices across the region, Capital Health is a dynamic healthcare resource accredited by The Joint Commission.
A four-time Magnet-designated health system for nursing excellence, Capital Health serves as a Level II regional trauma center, regional perinatal center (including a Level III NICU), and emergency mental health screening center. Capital Health also offers the region's first and most experienced Pediatric Emergency Department and most recently, New Jersey's first Autism-Friendly Pediatric Emergency Department. Capital Health also provides innovative programs such as Capital Institute for Neurosciences; nationally accredited Center for Comprehensive Breast Care; Center for Digestive Health; Marjorie G. Ernest Joint Replacement Center of Excellence; award-winning Cancer Center; and the Heart & Vascular Institute, which includes the region's first accredited Chest Pain Center. For more information, visit capitalhealth.org.