In the medical world, we use a lot of different acronyms. We asked Dr. Anil Balani, an inflammatory bowel disease (IBD) specialist at the Capital Health Center for Digestive Health, about IBD and the key differences between it and irritable bowel syndrome (IBS).
"Because the names and even some of the symptoms are similar, many people confuse the two. However, the two conditions involve very different treatments and the only way to know how best to manage your condition is to get an accurate diagnosis from your gastroenterologist," said Dr. Balani.
Meet Dr. Balani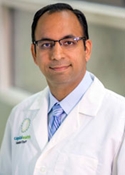 Dr. Balani received his medical degree from State University of New York (SUNY) – Stony Brook Medical School and completed his fellowship training in gastroenterology at Winthrop University Hospital in Mineola, NY. Dr. Balani previously held academic appointments at SUNY – Stony Brook Medical School and Robert Wood Johnson Medical School – University of Medicine and Dentistry of New Jersey (UMDNJ). He has also been a primary investigator in various clinical research studies for Crohn's disease and ulcerative colitis.
If you have been diagnosed with an IBD, such as Crohn's disease or ulcerative colitis, call our Center for Digestive Health today at 609-537-5000 to learn more about the treatment and therapy we provide.