Funding will bolster enhancements at Trenton's flagship hospital
Capital Health, one of the area's largest employers and providers of health care in the Trenton community for over 125 years, received a $500,000 grant from Bank of America (BofA) to support the health care organization's expansion at its Regional Medical Center campus in Trenton.
Capital Health is undergoing numerous expansion projects to grow its Emergency Department, add additional patient rooms, and build a new cardiac suite. These projects are incredibly important with the transition of services from St. Francis Medical Center. 
"Over the last year, Capital Health has made significant commitments and investment in Trenton," said Capital Health President and CEO Al Maghazehe. "When we assumed services from St. Francis Medical Center, we knew it would require not just our resilience and investment, but also dedicated partners to successfully do what we needed to do for our Trenton community. We are deeply appreciative that Bank of America sees the importance of these efforts to the long-term health and well-being of the Trenton community and that they have so generously supported these efforts."
"Capital Heath is a pillar of our community, and we are grateful for the comprehensive, quality health care services they have been providing for over a century," said Alberto Garofalo, president, Bank of America New Jersey. "Supporting their expansion reinforces our long-term partnership and commitment to the well-being of Trenton."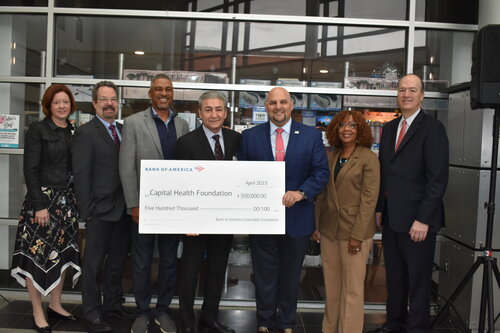 Bank of America
Bank of America is one of the world's leading financial institutions, serving individual consumers, small and middle-market businesses and large corporations with a full range of banking, investing, asset management and other financial and risk management products and services. The company provides unmatched convenience in the United States, serving approximately 67 million consumer and small business clients with approximately 3,900 retail financial centers, approximately 16,000 ATM and award-winning digital banking with approximately 56 million verified digital users. Bank of America is a global leader in wealth management, corporate and investment banking and trading across a broad range of asset classes, serving corporations, governments, institutions and individuals around the world. Bank of America offers industry-leading support to approximately 3 million small business households through a suite of innovative, easy-to-use online products and services. The company serves clients through operations across the United States, its territories and approximately 35 countries. Bank of America Corporation stock (NYSE: BAC) is listed on the New York Stock Exchange.
Capital Health
Capital Health is the region's health care leader and includes two hospitals (Regional Medical Center in Trenton and Capital Health Medical Center – Hopewell), Satellite Emergency Departments in East Trenton and Browns Mills, NJ, an outpatient facility in Hamilton, NJ, and various primary and specialty care practices across the region. Capital Health serves as a Level II regional trauma center, comprehensive stroke center, regional perinatal center (including a Level III NICU), and emergency mental health screening center.