Dr. Michael Ruzek, medical director of Capital Health at Deborah – Emergency Services, was recently named Honorary Commander of the 87th Medical Group at Joint Base McGuire-Dix-Lakehurst (JB MDL) in Burlington County, New Jersey. The JB MDL Honorary Commander program is a joint venture between military and civilian leaders that pairs exemplary representatives from the surrounding communities with JB MDL commanders to increase awareness and understanding of the joint base and introduce civic leaders to the people and organizations who serve there.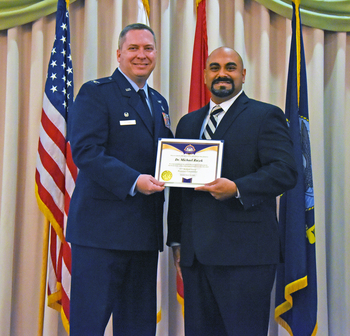 "I can't think of anyone more worthy of being named an Honorary Commander," said Dr. Eugene McMahon, senior vice president and chief medical officer at Capital Health. "As medical director of our satellite emergency department at Deborah Heart and Lung Center, Dr. Ruzek helped establish Capital Health as a health care leader for people on Joint Base McGuire-Dix-Lakehurst and in the surrounding municipalities. He was also part of the incredible effort at the base that provided support to displaced Afghan refugees and was the largest noncombatant evacuation operation in the history of the Department of Defense. He will continue to be a great asset for the people who live and work on the base and the region as a whole."
Board certified in emergency medicine, Dr. Ruzek received his medical degree at UMDNJ - School of Osteopathic Medicine in Stratford, New Jersey. He completed an emergency medicine residency at Morristown Medical Center in Morristown, New Jersey. Dr. Ruzek received his Certified Physician Executive degree from the American Association for Physician Leadership.
Dr. Ruzek is part of a the most recent class of Honorary Commanders at JB MDL selected to serve one-year terms, during which they engage with base personnel and other community leaders to address local issues. He will also continue to lead Capital Health at Deborah – Emergency Services, which provides emergency services to area residents in a modern, cutting-edge emergency department and offers seamless access to the medical services of Capital Health and Deborah Heart and Lung Center if additional treatment is necessary. For more information, visit capitalhealth.org/deborahSED.