Capital Health EMS recently took top honors at the 2022 Medical Special Operations Conference EMS Competition (MSOC), part of an annual event presented in May by the Fire Department of New York (FDNY). Capital Health's EMS Simulation Competition Team of Elizabeth Blizzard, Ed Dight, and Andrew Grandin won first place out of seven teams from across the United States. Held at the FDNY Fire Academy on Randall's Island in New York City, the competition consisted of several high-intensity scenarios over two days that tested each team's clinical knowledge, situational awareness, and teamwork. Prizes are awarded to the top three teams, and winners were announced in an award ceremony at the New York City Fire Museum.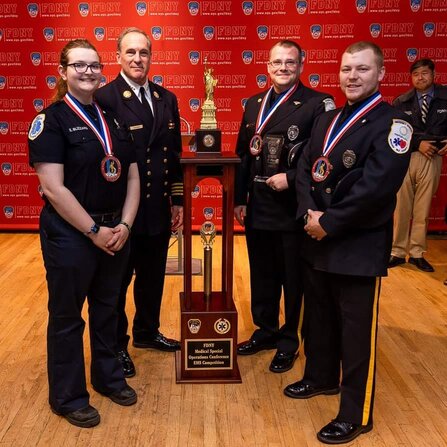 "Excelling on a national and international stage like this is a great accomplishment for our EMS team," said Al Maghazehe, president and CEO of Capital Health. "It's even more important for neighborhoods in Central New Jersey and Lower Bucks County that have come to rely on the outstanding emergency medical services that we provide for the region. This winning performance reassures residents of our community that, when they need it most, Capital Health is ready to deliver the best EMS care possible."
This year's FDNY Medical Special Operations Conference was attended by representatives from the United States and six foreign countries. The EMS Competition featured teams competing for 4,000 possible points over four different scenarios. Capital Health's EMS Simulation Competition Team beat all other teams in three of the four scenarios, earning at total score of 2,874 and edging out the second place team (Florida's Palm Beach County Fire Rescue) by 17 points.
 
For more than 40 years, Capital Health has been at the cutting edge of emergency medical services in the greater Central New Jersey and Bucks County region. The highly qualified EMTs, paramedics and registered nurses who make up Capital Health EMS are part of the highest acuity programs in the region, including one of 10 trauma programs in New Jersey, one of eight designated comprehensive stroke centers in New Jersey, as well as the first Mobile Stroke Unit in New Jersey and the region's first Mobile Intensive Care Unit. To learn more, visit capitalems.org.