When you or someone you know is having a heart attack, getting the appropriate treatment in a timely manner greatly increases the likelihood of a better outcome. Through its commitment to an evidence-based, protocol-driven approach to care that can reduce the time to treatment during the critical early stages of a heart attack, Capital Health Medical Center – Hopewell has earned accreditation as a Chest Pain Center with PCI (Percutaneous Coronary Intervention) from the American College of Cardiology (ACC) for the third consecutive time.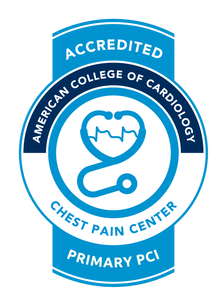 "Now, more than ever, it's important for the community we serve to know that when they need us most, we are here and ready to provide care safely and efficiently," said Al Maghazehe, president and CEO of Capital Health. "In addition to reaffirming our role as a leader in providing state-of-the-art care for cardiac emergencies, this shows our community that we remain up to date with the latest best practices for managing heart attacks with increased speed and efficiency, as well as providing education about the early signs of heart attack, all of which leads to better outcomes for our patients."
The goal of the ACC and its Chest Pain Center Accreditation program is to transform cardiovascular care and improve heart health by ensuring that participating health care organization like Capital Health meet systemic quality-of-care measures and implement necessary protocols, processes, and systems in order to earn accreditation.
"Earning a third consecutive accreditation from the ACC is a great accomplishment and a testament to the unwavering dedication of our entire team," said Dr. Lara Samson, medical director of Capital Health's Chest Pain Center. "Implementing rigorous ACC guidelines to provide our patients with the highest quality emergency cardiac care requires a concerted effort and is only possible thanks to the hard work of our experienced doctors, nurses, and other dedicated professionals."
If you think you or someone you know is having a heart attack, calling 9-1-1 should be your first step to talk with a trained dispatcher and have an ambulance sent to your location as quickly as possible. Treatment can begin on site when the ambulance arrives and may include medication and EKG testing. If on-site testing determines that a heart attack is occurring, Capital Health's pre-hospital alert system immediately mobilizes specialized medical teams in the Emergency Department and Cardiac Catheterization Lab at Capital Health Medical Center – Hopewell to perform additional testing or an emergency procedure as needed when the patient arrives.
With ACC Accreditation status, hospitals like Capital Health Medical Center – Hopewell demonstrate a higher level of expertise in dealing with patients who present with symptoms of a heart attack. By focusing on standardized diagnostic and treatment programs, the Chest Pain Center team is able to evaluate patients with heart attack symptoms more efficiently and effectively and provide appropriate and rapid care. They also provide access to other services at Capital Health to evaluate and treat other medical issues that may come to light and promote a healthier lifestyle that may reduce the risk factors for heart attack.
To learn more about Capital Health's Chest Pain Center, visit capitalchestpain.org.
Call 911 immediately if you or someone you know is experiencing the signs and symptoms of a heart attack.