Medical staff and employees at Capital Health Regional Medical (RMC) and representatives from New Jersey Sharing Network recently hosted a rose dedication ceremony to honor the memory of organ donors from Capital Health, including Dr. Jamila Irons-Johnson, who saved the lives of six people upon her passing at RMC in 2013. Janice Campbell, mother of Dr. Irons-Johnson, was a special guest at the event and will go on to accompany the Donate Life Rose Parade® float that will honor her daughter on New Year's Day 2022 in Pasadena, California. As part of the ceremony, Campbell presented Capital Health's Neurological ICU staff with an arrangement of sunflowers to show her thanks for the care her daughter received almost nine years ago at RMC.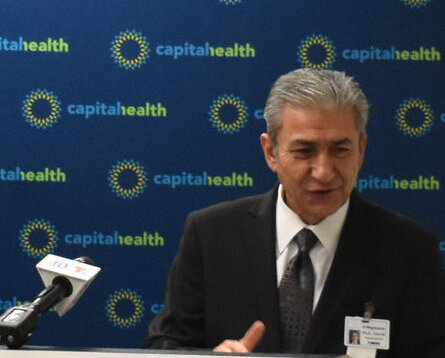 "Capital Health is proud to partner with New Jersey Sharing Network to help families navigate the emotional and logistical challenges of organ and tissue donation to help those who are in need of life-saving transplants," said Al Maghazehe, President and CEO of Capital Health. "For many years, it has been our privilege to send dedicated roses to be placed on the Donate Life Rose Parade® float in memory of organ donors, but having Janice Campbell here to help us honor her daughter and kick off her journey to the parade made this an exceptionally special event."
Dr. Jamila Irons-Johnson was a 35-year-old married mother of two and psychologist who focused on supporting abused and neglected children when she suffered a fatal aneurysm rupture in January 2013. On that day, the lives of Dr. Irons-Johnson's family changed forever, including her mother's. Upon her daughter's passing at Capital Health Regional Medical Center in Trenton, New Jersey, Janice Campbell and her daughter's family made the decision to donate her organs.
"My son-in-law said, 'Mom, she would want that. She was a giving person,'" Campbell said.
In that spirit of giving, and with help from Capital Health and New Jersey Sharing Network, Dr. Irons-Johnson saved the lives of six people that night through the donation of her kidneys, heart, liver, pancreas, and lungs. 
New Jersey Sharing Network, who helped coordinate the donations with Capital Health, is the federally designated non-profit organization responsible for recovering organs and tissue for the nearly 4,000 New Jersey residents currently waiting for a life-saving transplant. The organization is also part of the national recovery system, serving the 110,000 people on the national waiting list.
In support of this national effort, the Donate Life Rose Parade® float, part of the Tournament of Roses Parade since 2004, has inspired people across the country and around the world to save and heal lives with the powerful message of organ, eye and tissue donation. Just one organ and tissue donor can save eight lives and enhance the lives of over 75 people. Transplantable organs include the heart, kidneys, liver, lungs, pancreas and intestine. Transplantable tissue includes corneas, heart valves, skin grafts, bone grafts, ligament and tendons.
If you're considering registering as an organ and tissue donor, be sure to have a conversation with your family and friends about your decision. To learn more, get involved and register as an organ and tissue donor, visit www.NJSharingNetwork.org.