Center for Comprehensive Breast Care earns third consecutive accreditation for high-quality care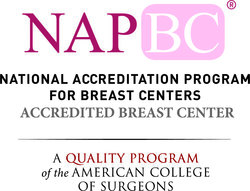 Capital Health's Center for Comprehensive Breast Care has been granted accreditation by the National Accreditation Program for Breast Centers (NAPBC), a quality program of the American College of Surgeons. This is the third consecutive NAPBC accreditation awarded to the Center.
"This accreditation validates the standards of excellence at our Center for Comprehensive Breast Care and our commitment to providing the highest levels of quality care across the organization," said Al Maghazehe, president and CEO of Capital Health. "We are proud to receive this well-deserved designation and acknowledgement that our breast program meets national criteria for quality."
The NAPBC is a consortium of national, professional organizations focused on breast health and dedicated to the improvement of quality outcomes of patients with diseases of the breast through evidence-based standards and patient and professional education. NAPBC accreditation is granted only to those centers that are voluntarily committed to providing the best possible care to patients with diseases of the breast.
To achieve NAPBC accreditation, a breast center must meet the highest levels of breast care, quality standards, and proficiency in center leadership, clinical services, research, community outreach, professional education, and quality improvement.
"Because of this accreditation, patients can have confidence in our comprehensive, integrated program and ability to diagnose and treat a wide range of breast conditions," said Dr. Lisa Allen, a fellowship trained breast surgeon and medical director of the Capital Health Center for Comprehensive Breast Care. "Capital Health was the first hospital in New Jersey to offer molecular breast imaging (MBI), an advanced imaging technology for the screening and diagnosis of breast cancer. We continue to make investments in advanced technologies and clinicians treating benign and cancerous conditions."
The Center for Comprehensive Breast Care offers the full scope of breast care, from cancer to cysts, abscesses, lesions, breast pain and other breast-related disorders, and although the discovery of a breast abnormality can be shocking, Capital Health is focused on treating the whole patient, not just the disease. Highly trained and experienced physicians provide specialized care such as nipple sparing surgery, hidden scar surgery, reverse lymphatic mapping to spare unnecessary removal of lymph nodes, and targeted treatment for the diverse types of breast cancer.
Breast cancer patients are cared for by a multidisciplinary team that collaborates closely to ensure they develop a personalized treatment plan that achieves the best possible outcome. A patient's health care team may include a breast surgeon, radiologist, medical oncologist, radiation oncologist, plastic surgeon, genetics counselor, nutritionist, social worker, rehabilitation services, and more. Each cancer patient has a personal, certified breast nurse navigator from the initial diagnosis through every phase of treatment. For patients, the NAPBC accreditation provides an extra level of confidence as they navigate the process of choosing a treatment provider.
The Center for Comprehensive Breast Care offers a complete range of personalized, breast care programs and services — from advanced diagnostics and genetic testing to leading edge cancer care — all at Capital Health Medical Center – Hopewell. For more information, visit capitalbreast.org.