Bladder cancer is the fifth most commonly diagnosed cancer in the US and is the fourth most common cancer found in men. Because early detection can lead to significantly better outcomes, Capital Health now offers Blue Light Cystoscopy (BLC) with Cysview, a breakthrough technology that improves bladder cancer detection so doctors can remove more cancerous tumors than previously possible with standard cystoscopy.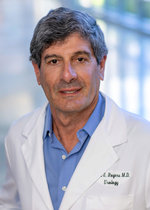 "Capital Health is one of only two hospitals in New Jersey to offer this procedure and the first to offer it to patients in central and southern New Jersey," said Dr. Brad Rogers, director of Urology at Capital Health. "In addition to giving us the ability to diagnose bladder cancer earlier than standard cystoscopy, BLC with Cysview also reduces the likelihood of recurrence."
When bladder cancer is suspected, doctors use a long thin tube equipped with a lens and a light (cystoscope) to perform a visual inspection of the lining of the patient's bladder wall. During standard cystoscopy, a white light illuminates the bladder lining, enabling the surgeon to view suspicious areas. However, not all lesions or cancers may be visible under the white light.
With a BLC procedure, highly trained physicians like Dr. Rogers begin by introducing an agent called Cysview (hexaminolevulinate HCl) into the bladder. Next, viewing the bladder lining using a cystoscope equipped with a blue light, cancer cells appear hot pink while the surrounding tissue remains blue, making it much easier to identify smaller tumors and lesions that might not be visible with standard cystoscopy.
"With significantly improved tumor detection, we're able to provide treatment earlier and achieve improved outcomes," said Dr. Rogers. "BLC with Cysview is approved by the US Food and Drug Administration for surgery and for follow-up cystoscopies as well, so it can be used for ongoing surveillance."
Dr. Rogers and his team at Capital Health - Urology Specialists work with primary care physicians and other specialists to provide residents throughout Mercer, Bucks, and Burlington counties with advanced urologic care in a compassionate and relaxed setting, including state-of-the-art imaging, diagnostics, and treatment options. His office is located at Two Capital Way, Suite 407, Pennington NJ 08534. He also sees patients at Capital Health's multi-specialty office at 1050 Stony Hill Road, Yardley, PA 19067.
To schedule an appointment with Dr. Rogers, call 609-303-4460 or visit capitalhealth.org/urology to learn more.