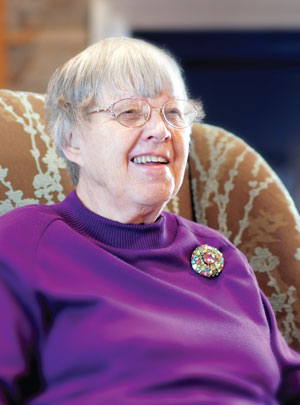 The connection to Capital Health for Marjorie Ernest is made of fond memories, lasting relationships and bright hopes for the future. It all started with her father Richard, an orthopaedic surgeon who practiced for years at Mercer Medical Center. And as you might guess, Marjorie was born at Mercer. Years later she would train as an X-ray technician at the very same hospital.
Now, as a generous donor to the Campaign for Capital Health (through the Capital Health Development Office), Marjorie follows in her father's footsteps of charitable giving and is truly a living continuum from the historical perspective of the hospital that started it all to the leading edge facilities that form the modern day Capital Health.
"I'm just thrilled to be a part of this, I wanted to help Capital Health grow," says Marjorie. "I was able to see the Hopewell hospital as it was being built, I got to wear a hard hat, and I wrote my name on the beam at the topping off ceremony!"
Marjorie has been able to leave a lasting impression in more ways than one on an organization that will provide care for many, many generations.