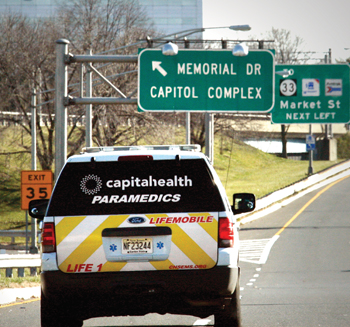 Our Mobile Intensive Care Units (Paramedics) provide pre-hospital advanced life support (ALS) for Mercer County, NJ and for surrounding counties through mutual aid agreements. Our mobile intensive care paramedics staff four ALS units stationed throughout Mercer County around the clock, and an additional fifth unit during the daytime hours of 7 a.m. through 7 p.m.
In addition to these units, our Critical Care Transport Unit is also available to take calls during high volume periods, when not scheduled for a transport assignment.
As noted above, Mobile Intensive Care Units are stationed throughout Mercer County. (Unit locations are listed below.) Some stations are located at Capital Health facilities, while others are hosted by local fire departments and ambulance squads.
Unit
| | |
| --- | --- |
|  Unit | Location |
|  791 | Trenton |
|  792 | Princeton |
|  793 | Hamilton |
|  794 | East Windsor |
|  795 | Trenton |
|  SCTU/Life Support | Trenton |
Capital Health Mobile Intensive Care Units (Lifemobiles) are each staffed by two New Jersey Dept. of Health and Senior Services certified Mobile Intensive Care Paramedics (MICPs) or Mobile Intensive Care Nurses (MICNs). These emergency care providers are trained to provide the highest level of pre-hospital care possible, and are required to regularly attend training programs and refresher courses to maintain their certifications.
Paramedic training not only includes Advanced Cardiac Life Support (ACLS) certification, but also includes Pediatric Advanced Life Support (PALS), Pre-Hospital Trauma Life Support (PHTLS), and other continuing education programs.