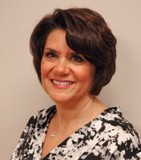 Advanced Practice Nurse, Capital Health Center for Digestive Health
CV/Resume
Julia Hydrusko is a board certified advanced practice nurse at the Capital Health Center for Digestive Health. Julia earned her Bachelor of Science in Nursing (BSN) and Masters of Science in Nursing (MSN) degrees from The College of New Jersey, Ewing, NJ. She is certified as a family nurse practitioner by the American Nurses Credentialing Center and received the 1998 Circle of Excellence Award for Excellence in Caring Practice from the American Association of Critical-Care Nurses.
Julia's work experience includes various clinical and leadership roles in health care in New Jersey for nearly 30 years. Prior to joining Capital Health Center for Digestive Health, Julia worked as an advanced practice nurse with Advanced Gastroenterology Associates in Marlboro, NJ. Currently working with Dr. Rogart, director of Interventional Gastroenterology & Therapeutic Endoscopy, Julia provides detailed and compassionate care in the diagnosis and treatment of complex benign and malignant disorders of the digestive tract, with a focus on gastrointestinal cancers (diagnosis, endoscopic management, and prevention), pancreatic and bile duct disorders, gastroesophageal reflux disease (GERD), Barrett's Esophagus, complications of bariatric (weight loss) surgery, amongst other conditions. Her professional memberships include NP member of the American College of Gastroenterology, as well as the Society of Gastroenterology Nurses and Associates.