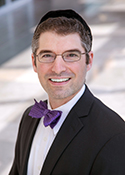 Director, Advanced Gastrointestinal (GI) Motility Program
Dr. Weinstein is a board certified, fellowship trained gastroenterologist with a focus on disorders that affect gastrointestinal (GI) motility, the movement of food through the digestive tract. Dr. Weinstein received his medical degree from Cornell University Medical College in New York and completed an internal medicine residency at the University of Texas Southwestern Medical Center in Dallas, Texas. He completed his fellowship training in gastroenterology at the University of Maryland Medical Center in Baltimore and the Digestive Diseases Branch of the National Institute of Diabetes and Digestive and Kidney Diseases (part of the National Institutes of Health) in Bethesda, Maryland.
Previously, Dr. Weinstein was a staff physician at the Philadelphia VA Medical Center, where he helped establish a tertiary referral center for esophageal and anorectal motility disorders in collaboration with other departments. His medical specialty interests include the diagnosis and treatment of achalasia, gastroparesis and refractory constipation and fecal incontinence. He performed the most pneumatic dilations for achalasia in New Jersey in 2016 and established Capital Health as a center for gastric neurostimulation (Enterra therapy) as well.
Dr. Weinstein has published research in a number of medical journals. He is a member of the American Gastroenterological Association and the American Neurogastroenterology & Motility Society.
Dr. Weinstein is fluent in French and has conversational proficiency in Spanish.
Click here for a list of accepted insurances at the Capital Health Center for Digestive Health.