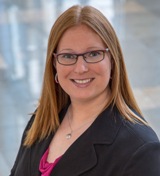 At the Center for Comprehensive Breast Care, we are guided by the idea that no two patients are alike, even though they may be dealing with the same illness. That is why we emphasize treating the whole person, not just the disease. 
To achieve that goal, we have brought a level of care to our area usually found only in major urban medical centers, including highly skilled clinicians and a range of advanced diagnostic technologies and treatment approaches. 
What is just as important is the way we strive to work with patients. At the Capital Health Center for Comprehensive Breast Care, you will not be treated like just another patient. You will not get lost in the shuffle. You will be the focus of a multidisciplinary team and be surrounded by care that embraces you at every turn. 
I know that there are few challenges more daunting than the prospect of having a serious breast disease. At the Center for Comprehensive Breast Care we are here with you every step of the way. 
Lisa R. Allen, MD, FACS 
Director